Welcome to the
Kyokushin Wintercamp in Etne – Norway

 26-29 January 2017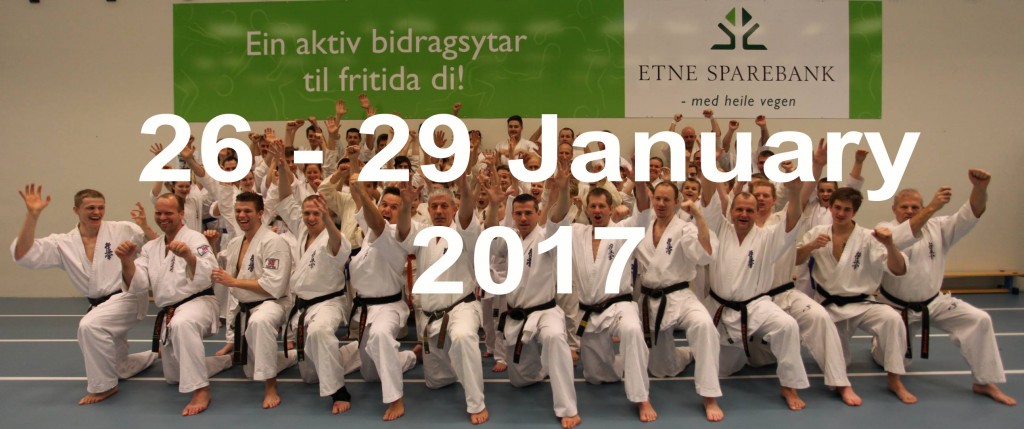 OSU!!
Etne Kyokushin Karate Club hereby invites you to our annual Winter Camp in Etne – Norway – 26-29. january 2017.
This is the place to practice KYOKUSHIN KARATE,
its  "TIME TO BE UNITED"
The first session starts Thursday, at 20:00 at "Skakkesenter" ( www.skakke.no ) with great facilities for training. Alle meals will also be served there.
Accommodation the first night will be in our Kyokushin Dojo, Friday we will move to the local school close by.
Also this year we are privileged to have our good friend and great instructor;
Shihan Javier Lezcano 5th Dan with us, he is one of the most admired Kyokushin instructors. Sensei Pablo Estensoro, 4th Dan, one of Europe's best Kyokushin fighters will also come, and they're both from Spain and we are looking forward to have them with us in Etne.
Head of instructions will be:
Shihan Javier Lezcano 5th Dan ( Spain )
Sensei Geir Havreberg 4th Dan
Sensei Tom Sølve Erga 4th Dan
Sensei Pablo Estensoro 4th Dan ( Spain)
Sensei Geir Rune Tøge 3rd Dan ( President NKKO )
Sensei Odd-Kjetil Liland 3rd Dan ( National Coach)
++ more will come
National Fighting Team:
The Norwegian National Fighting Team will be present and train at the camp. The National Coach Sensei Odd-Kjetil Liland 3.rd Dan. will lead the sessions for the Fighters, and candidates (+ potential candidates )
Training:
There will be instruction in Basic/Kihon, Kata, Kumite/Fight at many levels, and some training theory and principles which is very important in Kyokushin karate.
Program:
Friday:
09:00 – 10:30
15:00 – 16:30
19:00 – 20.30
Saturday:
07:00 – 08:30
11:00 – 12:30
15:00 – 16:30
Sunday:
07:00 – 08:30
11:00 – 13:30
Accommodation:
From Friday, everyone will be accommodated at the local School.
Its Classrooms, so please bring your own mattress or similar and a sleeping bag.
Prices 2016:
Instructions, accommodation and food:
NOK 1290,- pr. athlete.( approx. €140,- ) ( special prices for family members )
Club Directors bringing students with them to Etne are specially invited and will be offered the camp for free. 
Rebates:
Fam.member #2 : NOK1100,- #3/4/5 NOK 1000,-
If you are joining as a Guardian/companion/parent and just need to stay&eat, price is : NOK800,-
Payment:
NOK Cash at the camp, or payment in advance to our account : 3543.27.20045
for our international guests, please find info below:
IBAN: NO3135432720045
SWIFT: DNBANOKK
Bank: Etne Sparebank
How to get to Etne?
Etne lies along the main road E134 (Haugesund – Oslo )
50min from Haugesund. Easy to reach by car, and public busses. ( HaukeliExpressen)
If you arrive with plane to Haugesund Airport ( Karmøy), we'll organize transportation for you.
OSU !!
ETNE KYOKUSHIN KARATE KLUBB
Club Director:
Sensei Geir Havreberg 4.Dan
Mobil: + 47 905 16 319
m@il: gah@westcon.no
Camp Organisator:
Senpai Frode S Robberstad 2.Dan
Mobil: +47 913 80 360
m@il: KyokushinEtne@gmail.com